Deepshikha is not limited to education. Our family is looking out for some serious overall development. This is exactly what our faculty, student fraternity and our management feels. We are not just an institution we are a life style. We believe that there is something beyond profession. We focus on developing social values that will make our student a better person also. Our infrastructure offers you extracurricular activities and scope to work hard on talent that is hidden inside our students. Our campus depicts lifestyle and energy that will make you work beyond your potential and that is where success is.
"Tell me the name of your friends and I will tell you who you are"
It is true that the environment that we live in makes 80% contribution in what an individual we are. This is the same reason why we take care of the environment that a student witnesses in the campus. Deepshikha Kala Sansthan has created an infrastructure that is conducive to world class education and mission based learning through the state of the art technology.
Come experience awesomeness with Deepshikha Kala Sansthan and the various technical education institutions under the bigger ambit of Deepshikha Kala Sansthan.
Journey:
Deepshikha Kala Sansthan is a registered society bearing its registration no.307/76-77 under society registration act 1958 with an aim to provide quality education deepshikha is the first Government recognized computer training institute in Rajasthan.Today the society is runing BE, MBA, MCA, Msc-IT, D.Pharm, B.Pharm, MJMC, B.Ed., STC-Hindi, LLB, BBA, BCA, PGDCA, Designing, COPA, 'O' Level, 'A' Level, 'B' Level, CCC and many more recognized courses.At Deepshikha,we very well understand the need of future professionals.
Memories :
Rashtriya Ratan Lt. Shri Nirmal Kumar Surana Laid the Foundation of Deepshikha Society way back in 1976.His vision was not only to provide Education but to in-cultivate social and moral values in the students.Deepshikha family gives tribute to a man,with golden heart and great cause,by providing merit-cum need scholarship worth Rs.1,00,00,000 every year and also by establishing public library at "Anu Vibha",Malviya Nagar,Jaipur.
 
Infrastructure in 2013:
| | | |
| --- | --- | --- |
| DCTE, Mansarovar, Jaipur | RCERT,Sitapura | RIPS, Vatika |
    
Learning Resources:
Digital Library:
We have a fully computerized library in all the colleges. It has a large collection of books covering several disciplines like Management, Finance, Economics, Marketing. HRM, Law, Environment, Psychology, Research Methodology, Engineering, Information Technology, etc. Specialized books on various Computer languages are also stocked and updated regularly. A wide range of national and international journals, magazines, periodicals, news papers and information bulletins of world repute are regularly subscribed.

Computer Lab:
Information Technology is evolving at such a fast pace that updating a computer lab's software and hardware resources is a regular task of our computer professionals. Our Computer lab is geared to provide a high-tech environment for all courses. The Computer lab has all Pentium IV machines on LAN. All computer are multimedia ready and are networked to scanners & printers.

The Internet:
At Deepshikha, we provide extensive global exposure to our student though the Broadband Internet facility. We have an Internet Club which is used by our student to interact with their counterparts in other institutions and use the Internet as a platform for exchanging ideas. This helps them to prepare their presentations, dissertations and projects.

Intellectual Capital:
The faculty at Deepshikha, in one word, is outstanding! Faculty members of Deepshikha are highly meritorious and learned & belongs to reputed institutions. They take a personal interest in the multi-dimensional development of their students, balancing conventional teaching with modern practical exposure. In addition to a very strong and respectable academic background, faculty members have rich experience in the corporate world as well. The faculty members are committed to teaching students and helping them launch into successful careers. Deepshikha students and faculty develop close and enduring relationships, with faculty members effectively serving the role of mentors and career builder.

Guest Lectures:
The students theoretical understanding is supplemented by a practical orientation developed through lectures by leading successful personalities in their related fields and academians once in a night.

Personality Development:
At Deepshikha, we recognize the need for every student to face the professional world and thereof equip them with good personality traits besides academic brilliance. We conduct group discussions and mock interviews as well as training to appear for interview by hiring outside professionals, so that the students are equipped with proper interview skills. In addition to this, confidence building exercises, like debates, declamation, workshops and presentations are also stressed at Deepshikha which not only give our students a solid foundation in education, but also prepare them as individual who are adept at the practical and professional aspects of life.

Seminars and Presentations:
At Deepshikha, we recognize that oral communication is an integral part of living a successful life. The students make presentations of lecture-cum-discussion sessions using audio visual aids to convey ideas and plans in an organized fashion. The topics generally relate to macro business environment, economic problems and government policies and other courses. The preparation for such seminars involves in-depth studies of the topic concerned.
 
Accommodation:
Separate boys & girls hostels are available in the campus. Priority given to the outside students, & who apply by admission deadline as decided by the college. Hostel have single, double & triple sharing bedrooms equipped with bathrooms and toilets. Each bedrooms is fully furnished & includes bed, mattress, study area and cloth storage space. Each hostel block has a telephone in the lounge. Residents can receive incoming calls and access all internal extensions within the college campus free of charge. There is also a TV room with VCD, DVD & Cable TV.

Off Campus Accommodation:
Many students choose to live off-campus in rented accommodation, typically an apartments tenements or house. There are many affordable options in the suburbs around college campuses and students often arrange to share accommodation with their college mates.
 
Global Academic Partnership:
We have signed MOU with INFOSYS Technologies Ltd. Under Campus Connect Program. Under this program students will work on live projects of INFOSYS & learn the curriculums designed by INFOSYS. Students will also online interact with INFOSYS Engineers. Recently we have tied up with world leading Florida Atlantica University – USA for Research, Higher Studies & Employment in USA. We are also a member of Microsoft Academic Alliance Program. A Knowledge Dissemination Centre (KDC – A project of Centre of E-governence) Is going to be established.

Teaching Methodology:
The objectives of all courses are to equip the students with knowledge and skills, which is essential for facing the challenges of the modern industrial society. Hence, a combinations of various teaching methodologies are used to impart education.

Experimental Learning:
Experience is one of the first ways to learn. through training exposure students gain valuable work experience to deal with real life situations.This integral practical know how gives students advantage and makes our teaching pedagogy a unique learning experience.

Project Work:
Students form teams to carry out the projects.these projects may be proposed by the college or by the students & cover several types of activities.Project work offers the students an opportunity to understand practical business environment.

Free Personal Insurance:
All the students who enroll in Deepshikha College have free personal accident insurance under group insurance scheme of Rs. 70,000/- per student through State Insurance.
Sarosh Khan
Company: Sahasra Group Batch: B.Tech. (EC)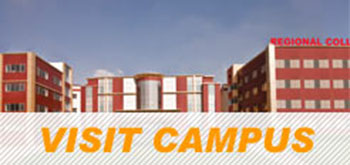 Recently Deepshikha College organized a grand Orientation Program for its first year MBA students at Hotel Golden Tulip. The event marked the